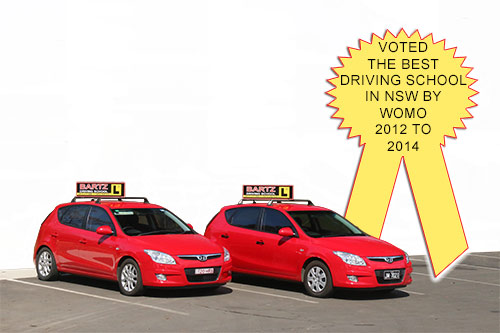 Bartz Driving School Customer Testimonials
Visit WOMO here for a complete list of testimonials
Check out what some of our customers have said about Bartz Driving School:
June 2018
This is the best driving school around. Thank you very much John for everything you did for my son. You were fantastic. Your patience and commitment were outstanding. My son was so nervous that he didn't ever think he will drive. You bring out the best in him and gave him so much confidence. I know now he will be a safe driver because of what you have taught him. I have 4 other children and you will teach them all. Highly recommended driving school. Believe me, you won't be disappointed.
January 2017
John is the best. Lieve passed first time. Thanks john.
December 2016
I'd like to thank David who was very friendly and informative. Thank you so much for helping me get my license, and I would like to recommend Bartz driving school to anybody who is learning to drive. Thanks so much.
November 2016
Thank-you to David for getting Sean to pass his test. Best instructor ever. See you on 2 years when the next one is ready.
November 2016
Absolutely the best driving school out. John was no doubt the best and helped me boost my confidence up when driving. I can't be grateful enough for all he did, and helping me pass my test with flying colours. All thanks to your amazing skills 😉 I can't thank-you enough.
October 2016
My son had used 2 others but found this one the best professional helpful honest and experienced. Highly recommend.
January 2016
Bartz driving school, John you are awesome! I thank you so much. I never thought I could ever drive just keep taking transport & walking was my life purpose due to my personal anxiety after a accident at the age 15 stopping me from moving forward Look at me NOW 36 & I have my license. I'm glad the other driving school didn't think I was good enough to reply back to, as your driving school was the right choice for myself. 100% recommend.
4th January 2013 5:41 pm
John is an amazing instructor and he made me feel confident while driving. He doesn't just make you drive he shows you different techniques and ways of remembering things. He breaks everything down into steps and makes passing your test achievable. Without Bartz driving school I wouldn't have gotten up my hours or passed my test, there is a reason John was voted the best driving instructor! I would and do recommend Bartz driving school to everyone and anyone!
6th November 2012 1:17 pm
Before having lessons with Bartz driving school I had very little confidence in my driving skills. After the first lesson I already felt more relaxed and confident to book my test. On the day of my driving test my nerves were pretty bad but John was confident in me and I passed. I could not have been happier with Bartz driving school and would not hesitate to refer others to Bartz in the future.
20th October 2012 9:57 am
I would definitely recommend Bartz driving school to anyone willing to learn and pass their driving test with the confidence they need. John is a really easy going person who will explain things thoroughly and make sure you have the knowledge you need to pass the driving test. He taught me all I know and I passed my test first go. I am really happy with the service that John gave me. Thank you John!! 🙂
8th October 2012 2:03 pm
Bartz Driving school has helped me to gain the confidence and knowledge needed to pass my driving test. They are reliable and are willing to help with any questions and/ or issues with driving you may have. I would recommend them to anyone going to do a driving test.
Thankyou to Bartz driving school for helping me out and making sure I would pass my test.
4th October 2012 11:18 am
Having tried and failed the driving test twice my confidence was pretty shot, but having lessons with John really helped that. He's a really friendly, easy-going bloke who makes you feel really comfortable driving with him. John helped me fix up bad habits I had developed and actually took the time to explain to me why they weren't good driving, and helped me to understand what driving was all about.
Thanks to him I managed to finally pass my test and am so greatful to him 🙂
i would highly reccommend him to anyone wanting to go for their Ps test.. even if you think your ready, a few lessons with John will make sure you are 🙂
Thanks John!
2nd October 2012 8:30 pm
I never thought I would be the holder of a P1 license, as I am not very confident and a very nervous driver. But thanks to John, I got my license first go. He is the only driving school I have stuck with because he woke me up to the reality of driving. I became confident quickly and I know I will be a better driver because of what he has taught me. Highly recommended to anyone learning! Thank you John!!
15th September 2012 7:38 pm
I would highly recommend John from Bartz Driving School to any nervous drivers out there going for their licence. I passed first time and scored 100%! Thank you, I couldn't have done it without all of the driving knowledge I developed through his lessons.
14th September 2012 4:34 pm
After failing my driving test four times in a row I decided to give Bartz Driving School a go. Not only did I realize why I'd failed the tests and how to be a better and safer driver – I also passed the test just one hour after my first Bartz lesson. Would definitely recommend to anyone about to take their P's test or even someone looking to be a safer driver overall.
Just thought I'd drop you a line to say thanks for sharing your experience.
10th September 2012 6:32 pm
Thanks to John for helping me get my licence, i would recommend this driving school to everyone, thanks again for everything 😀
4th September 2012 8:45 am
I have used Barzt Driving School for my three youngest kids, all getting their licences first time. John was patient & understanding, he could asses each situation differently knowing how many lesson were required for each individual & not just charging for unnecessary lessons, which was a cost saving for me. Have recommended him in the past & would do so again now, for honest response.
31st August 2012 7:53 pm
Thanks John for all your help in getting me through my test first time. Very Very happy with the whole experience from start to finish………highly recommended : )
27th August 2012 2:12 pm
Bartz Driving School is brilliant ! Not only do they guide you how to drive properly, they break everything down into segments and explain them in a way to which you understand, giving you skills and confidence. Passed my test first go!! Thanks heaps John!!
23rd August 2012 7:57 pm
Very good lessons, explains every aspect of driving descriptively and in an easy to understand way.
20th August 2012 12:23 pm
good teacher, good driver, all round good driving school. talks you through everything you need to do and lets you know what you are doing or have done wrong
7th August 2012 11:15 am
John from Bartz is an amazing instructor. As a very nervous parent he offered great solutions to enable me to supervise my sons driving, giving both Ryan and I confidence as his skills developed.
Thank you John…GREAT JOB!!!
21st June 2012 4:27 pm
John is a strict instructor, but also fun to drive around with. You are guaranteed to learn a lot from him. Highly recommended! I got my p on the first go.
16th June 2012 2:34 pm
John is very experienced and dedicated. He not only taught me the correct way to drive, but also explained and demonstrated very clearly why we should drive like that. In other words, he changed my driving technique mentally and physically. That helped me improve very quickly. I got my license on the first attempt! Strongly recommend!
20th May 2012 6:26 pm
As a learner driver John guided me to confidence with the result of getting my P's. Fabulous, amazing, awesome, fun service and would recommend to anyone! Get on it!
4th May 2012 8:27 pm
John is a excellent instructor, experienced and dedicated. Highly recommend Bartz and John if you want your Licence in a timely fashion.
18th April 2012 7:48 am
Bartz was the best driving school I have been with, I am 22 and have tried with many driving schools! John was my teacher and he was great! I had my license within 1 month!
I learnt everything I needed to know and more Bartz are also only $60! I would highly recommend Bartz driving school to anyone !
21st March 2012 9:33 pm
Passed P's test on Automatic first go thanks to John.
-He has lots of experience & precise knowledge of driving requirements
-Teaches proper driving technique to continue through life
-Very helpful & supportive with booking test for me
-Overall positive process of me becoming a safer driver
5th March 2012 6:31 pm
Informative, friendly, passed Ps test first go. Recommend to everyone who wants to pass their test in the Hawkesbury region.
29th December 2011 5:02 pm
Great service. I passed first go. Very informative. He let me try manual but found out very quickly i like auto better. Relaxed and great teacher. Mum reckons my sister should go with him.
30th September 2010 12:37 pm
Great Driving Instructors.Very easy to get along with, and are great motivators. John, my instructor, has helped me to overcome my fears of driving, and is so easy to talk to. I really enjoy my driving lessons, and actually look forward to them!